Our bestselling nutrient rich Advanced Full Spectrum Serum (AFSS) consist of fast absorbing, nourishing & non-greasy oils. This unique facial serum may help reduce acne scars, fine lines, problematic acne prone skin & dry dull skin.  We have combined it with our bestselling skincare tools to provide the ultimate glow up. 

93% of people that use our facial oil all agreed that their skin felt more hydrated. 
92% of people that use our facial oil  all agreed that their skin felt softer. 
✔︎ May reduce acne, scarring, blackheads
✔︎  Regulates oil for dry or oily skin
✔︎ Fades and may help clear dark spots and hyperpigmentation
✔︎  Improves skin's moisture for makeup-free glow
✔︎  Works for all skin types 
"After the first night of applying the facial oil my skin was so soft the next morning, it is incredible how well my skin absorbed the oil overnight! Honestly a game-changer 100% recommend this! "
- Louise R.
Amazing Customer Transformations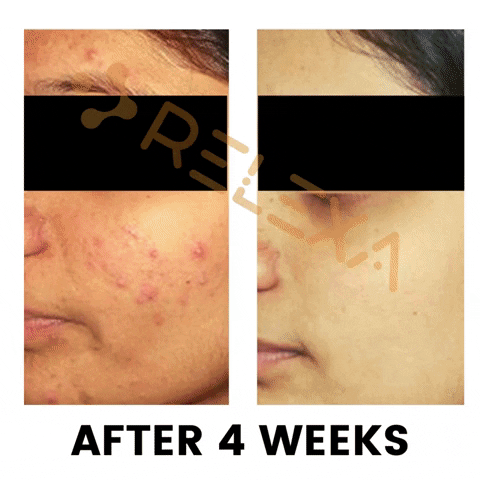 Why Plant Based Extracts & Oils?
They 
Regulate & Balance Sebum

 
, to
Reduce & Banish
:
Ingredients:

Pure Australian Sandalwood Oil: Especially high in antioxidants. which helps skin repair itself & can also stimulate collagen production. Can also assist in defending your skin from potentially harmful molecules, known as free radicals.
Organic RoseHip Seed Extract: Commonly known for their in-depth hydration & moisturising properties.
Organic Sea Buckthorn Extract: Very rich in vitamins & minerals, this plant extract has 10x the amount of vitamin C found in oranges, vital in brightening the skin and evening out the skin complexion.
Organic Safflower Oil: A non-greasy light oil that has a high concentration of linolenic acid.  Helps to balance your natural oils (sebum) production & replenish skin moisture.
Golden Jojoba : The key to its survival in the desert is its ability to hold moisture within its living tissue. Jojoba helps your skin hold moisture therefore leaving your skin hydrated for longer.
Tamanu Oil: High in antibacterial and wound healing activity, helps promote collagen production vital in healing acne scars. 
Lavender Pure Essential Oil: Commonly known for its stress relieving properties, Lavender also assists in unclogging pores and reducing inflammation.  
And blood orange and ylang ylang essential oils!